Our Mission
Female Artistic & Commercial Entrepreneur Support, Inc. (FACES) is a not-for-profit organization that aims to increase the number of female voices in film, TV, and digital media. It seeks to do so by helping women break into and develop successful careers in those industries. FACES encourages aspiring female artists and entertainment professionals to approach their careers like small businesses, using the entrepreneurial skills learned through training and guidance provided by the organization's community of professional support.
On a broader scale, FACES hopes that the resulting increase in female influence at all levels of the entertainment industry will lead to the general public's greater exposure to more varied and authentic female perspectives. This, in turn, will heighten the potential for awareness, empathy, and understanding in regards to gender equality and female empowerment.
Meet the Faces Behind FACES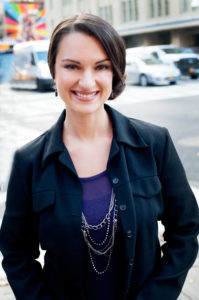 Brittany Rostron
(Founder/Board President)
Brittany is a true multi-hyphenate in the entertainment industry, clocking 15+ years of diverse experience in feature film, TV, and digital content. She's held positions ranging from Line Producer to Location Scout to Script Coordinator on films such as Men in Black III and The Smurfs Movie, TV series such as The Knick and Nurse Jackie, and commercials for clients such as Under Armour and MTV. She also works as a freelance writer, script consultant, and as an adjunct instructor at NYU. In a previous life, she traveled the country with a retired football legend in public relations. She has her BA in Television, Radio, & Film with a dual degree in English from Syracuse University and her MA in Artistic Entrepreneurship from NYU.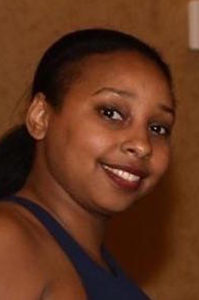 Tiffani Gray
(Treasurer) 
Tiffani spends her work hours as a production manager for AMC Studios' episodic drama series and digital content. Having seven years of diverse production experience, her passion is all things media, but she is especially interested in the future of streaming video content and what that means for scripted series. When she's not actively producing a series, she can be found pencil-in-hand, face-in-script, scribbling notes in the margins.

Nicki Manchisi
(Director of Development) 
An avid lover of film and TV, Nicki spent much of her early childhood convinced she was She-Ra, The Princess of Power. As she grew older, her endeavors to save He-Man from imagined villains dwindled and a burgeoning love of writing and the world at large began to take root. While at St. Michael's College, Nicki's journalistic ambitions drew her into the world of Documentary filmmaking. She made her first documentary in 2003 and after graduating with a BA in Journalism; she transitioned towards digital media in 2006, taking a job as a Digital Producer for Nickelodeon. Wanting to further diversify her film career, Nicki attended San Francisco State University's MFA program in cinematography, where she finished her first fiction film, "Woo Woo," which was screened at festivals throughout out the country and world. She currently works as the Director of Operations for all of Nickelodeon's Kids and Family's digital products. She spends her time away from the office writing and being a mom to her son, Jack.

Meghan R. Dineen
(Board Member) 
Meghan is a producer for SYFY WIRE, a genre-based news organization that covers science fiction, fantasy, and horror. In her role she oversees multiplatform projects for the brand that live on the air, social media platforms, and on syfy.com. Before coming on board at SYFY WIRE Meghan spent 5 years working for the Chiller and SYFY networks working on marketing campaigns for various films and shows. In addition to her 9-5 job Meghan is also the co-producer for Yum's the Word, a live monthly storytelling show in NYC. When she isn't doing either of those things, she can be found watching indie movies and travelling the country.

Julia Leffler
(Director of Programming) 
A native New Yorker, Julia grew up backstage on Broadway. She has spent the past two years at DIRECTV as a digital producer, working on marketing materials for the premium channels. She is also serving as the first editor of the TV section for AT&T's new editorial destination, https://entertainment.directv.com/ . In her spare time, she enjoys taking her dog to the park and watching as much TV as she can.

Zuha Jamil
(Manager of Media & Strategic Partnerships) 
Zuha started her career at the UN headquarters in NYC, having worked with organizations on the roster of the UN Economic and Social Council, as well as UN Women. She then got involved in local and state government affairs through positions with the NYC Department of Education and most recently, the political campaign of first-time candidate and now NY State Senator Alessandra Biaggi. Zuha is a certified Caring Economy Advocate through the Center for Partnership Studies, an Executive Committee member of the NYU Women's Initiative, and a member of the NGO Committee on the Status of Women. She has previously also covered the launch of NASA's GOES-R mission as a NASA Social Media Ambassador, organized and co-chaired the 2016 Business Case for Women's Leadership in Public Institutions Conference at the UNHQ in NY, and served as an Ambassador for Women for Women International. She is an alumna of NYU's College of Arts & Sciences. Email her at [email protected].